Meramec Greenway Trail - Fenton City Park & (Yarnell) River Rd.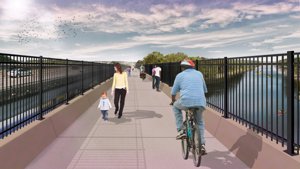 The Meramec Greenway Trail is a work in progress, with segments of trails near Eureka, Wildwood and Fenton. This page talks about the section of trail between George Winter Park in Fenton, and Unger Park in Fenton, with stops and additional trails in Fenton City Park and Fabick Nature Preserve. A bridge from this Fenton Trail connects with Sunset Hills and Minnie Ha Ha Park on Old Gravois, and also with (coming soon) Russell Emmenegger Nature Park by a newly built foot traffic bridge along the I-44 Bridge over the Meramec.
The Meramec River Greenway is split between Fenton and Sunset Hills, and is split between the Lindbergh School District and Rockwood School Districts.