Carondelet Park Bike Paths and Trails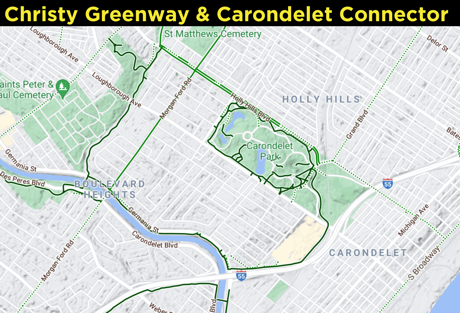 Carondelet Park has recently updated bike trails that are paved and smooth that can be used for biking, walking, jogging, and inline skating. The paths wind around a lake, fountains, and forested area. The trails can be 1.2-2 miles long and start at Loughborough. Trails can be looped and adapted to make that easy or difficult. The trails are wheelchair accessible and have water fountains, restrooms, and parking available.
Trails also feed into Carondelet Park, such as the Christy Greenway Trail, Carondelet Connector, River des Peres Trail and cycling lanes along Holly Hills Blvd.
Carondelet Park is a gem in the City of St. Louis that is an anchor point for Holly Hills, Carondelet, Boulevard Heights, Patch and Princeton Heights neighborhoods!
Latest Carondelet Park Homes For Sale